Toots (family nickname) is the first person on the left in the back row. I really wanted to get her page posted, because I love this background. She loves turtles, so I thought this was an appropriate picture for her.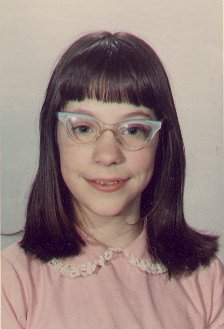 Lydia Jeanne Powers was born July 3rd, 1956. She was the first granddaughter on the Hinckley side of the family. She is 7 years younger than Bill, the first sibling & 7 years older than me, the youngest. In fact, Andy is 4 years older than Toots & Karen is 4 years younger. The only one to mess up the symmetry of our ages is Ray, who is 1 year younger than Toots. Our mother always said that they were so close in age it was like having twins, what one didn't think of the other would.

Lydia married Roy Taylor on Jan 24th, 1976. They have 2 children, Cynthia Jeanne & Rebeccah Sue. They still live in our hometown of Middletown Springs, Vermont. Toots was the town librarian for many years and is still on Middletown First Response & is a member of the Poultney Volunteer Resue Squad.

(Check out the "Cat" glasses - she was retro before retro was cool).