To find ANYTHING on the web, I start here:
One of my all time favorite comic strips, sad to say is now defunct, but you can get your fill at the official web site of:

Click here to view their last comic strip.
I also love Dilbert. I can identify with the cubicle-bound anti-hero. (I would also swear that Scott Adams is watching me!)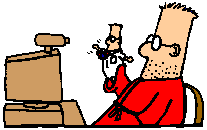 Click here to see my neice Erin's page.
If you like the backgrounds & themes I've used on this site, check out these sites -
For the whimsical unicorns, faeiries, wolves, etc - http://northern-dreams.com/